Prepared by the Global Fire Monitoring Center (GFMC) & the Editorial Board

All over the world it is observed that fires are burning across the natural, cultural and industrial landscapes and the perimeters of villages, towns and cities, sometimes even entering densely built and populated urban areas. Therefore, the term "landscape fire" is used increasingly. Other names such as bushfire, forest fire, grass fire, peat fire and vegetation fire are also used to describe the same phenomenon depending on the type of vegetation burned. In most cases landscape fires are started in agricultural and pasture lands and then spreading to forests and other natural plant communities (bushlands, grasslands, savannas), and from there to residential areas and even cities.
The term "wildfire" is used when fires are burning unwanted and unplanned. These fires are the main concern, because they usually have destructive effects on the environment and the security of society. During extreme drought, heat and strong winds a wildfire may reach a very large size and high speed. When a change of wind direction occurs the fire can change direction unexpectedly, and may easily jump over roads, rivers and other fire breaks. Landscape fires may affect residential and industrial areas (houses and other structures, peri-urban fringes, infrastructures including critical infrastructures) and remnants of human activities (waste deposits, contaminated lands), resulting in co-burning of hazardous / toxic substances. In many regions the occurrence and impacts of landscape fire are increasing due to land-use change. For instance, in many countries of Europe the rapidly evolving trend of urbanization of the young generation has resulted in abandonment of the rural space. Large areas of old cultural landscapes, which had been intensively cultivated by farmers and shepherds, are now overgrown by bush and tree cover. Consequently, the vegetation that is now growing on the lands, which formerly had been intensively harvested and grazed, are now creating the conditions for very intense and large fires. In addition, climate change all over the world is associated with the occurrence of longer-lasting and more severe droughts. The combination of increasing flammability of abandoned cultural landscapes and weather extremes are leading to very severe fires. The people living in these rural areas in farmsteads, villages or even in the perimeters of towns and cities, also visiting tourists, are becoming increasingly endangered by such intense and fast moving fires.
For more information on Landscape Fires, click HERE
Recent notable wildfire events
In the following a few examples are given on large and destructive wildfires in Australia, North and South America, Europe and in the subarctic zone. These examples from the last decade show that globally the natural, cultural and urban-industrial landscapes are increasingly endangered by fires. Many people are living in highly flammable landscapes and are often far away from the assistance of fire and rescue services or other land management authorities. This is why civil society must become aware of the landscape fire risks and be available to contribute to fire prevention and to protect their own homes, gardens and other property from fires by taking precautions. This website shall help to understand the occurrence, characteristics and impacts of landscape fires – a theme that needs to be addressed by the schools.
Australia 2009 and 2019
The so-called "Black Saturday Fires" were a series of fires that ignited or were burning across the Australian state of Victoria on and around Saturday, 7 February 2009, and were among Australia's all-time worst bushfire disasters. The fires occurred during extreme fire weather conditions and resulted in Australia's highest ever loss of life from a bushfire; there were 173 direct identified fatalities. The figure was later increased to 180 fatalities, after several people had succumbed to their injuries. Many were left homeless as a result. The extreme fires affecting Australia in 2019, notably New South Wales, resembled to 2009, but fortunately caused less fatalities than a decade ago.
United States 2017 and 2018
A series of 250 fires started burning across the state of California, United States in early October. Twenty-one became major fires that burned 99.148 ha. By 14 October 2017, the fires had burned more than 85.000 ha while forcing 90.000 people to evacuate from their homes. In total, the Northern California fires killed 44 people and hospitalized at least 192 others, making this one of the deadliest wildfire events in the United States during the past century.
The Camp Fire of 2018 was the deadliest and most destructive landscape fire in California's history and also considered the deadliest fire in the United States. The fire started on 8 November 2018, caused at least 86 civilian fatalities, with one person still missing, and injured 12 civilians, two prison inmate firefighters, and three other firefighters. It covered an area of 62.053 ha, and destroyed 18.804 structures, with most of the damage occurring within the first four hours. Total damage was $US16.5 billion; one-quarter of the damage, $US4 billion, was not insured. With the arrival of the first winter rainstorm of the season, the fire reached 100 percent containment after seventeen days on 25 November 2018.
Greece 2007 and 2012
In 2007 Greece experienced the worst year on record for landscape fires. Arson and carelessness sparked more than 3.000 blazes. Extremely hot and dry weather conditions in Greece, combined with strong winds led to a disastrous upsurge of wildfires between 28 June and 3 September 2007. About 2.100 structures were destroyed, which scorched 100.000 ha and killed 84 people. More than 110 villages were destroyed leaving thousands of people homeless, while the flames burned dangerously close to historic, archeological and cultural sites (e.g., Olympia), as well as in protected areas (e.g., Mount Parnitha).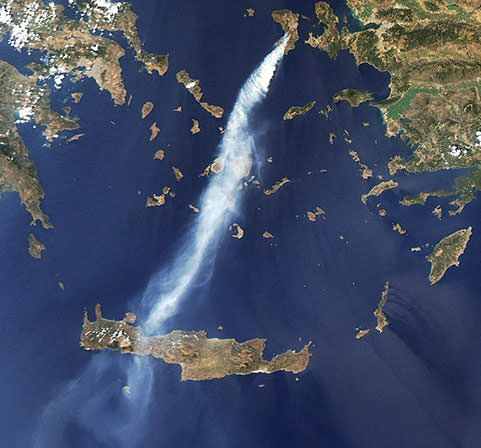 Russia 2010
Between June and August 2010 the densely populated region of Western Russia, with the capital region Moscow with more that 10 million inhabitants (totaling about 14 million people including the agglomerated suburbs), were affected by severe smoke pollution from fires that in total size were relatively small. However, the fires burned in peat bogs, which had been drained and colonized in the early and middle 20th Century for agriculture, establishment of settlements, and for energy production. The city of Elektrogorsk near Moscow was founded in 1912 with the establishment of the first large peat-fired power station to supply electricity for Moscow region. After the 1980s this type of electricity production came to a complete stop and many of these formerly very intensively utilized peatlands had been abandoned – but not restored to their original wetland character. In 2010 negligently caused fires entered deep turf layers where they smoldered for many weeks and even months – causing pollution that affected the health of people in Western Russia.
 
Portugal and Spain 2017
Four fires erupted across central Portugal in the afternoon of 17 June 2017, resulting in 66 deaths and 204 injured people. An intense heat wave preceded the fires, with many areas of Portugal seeing temperatures in excess of 40°C. During the night from 17 to 18 June, a total of 156 fires erupted across the country, particularly in mountainous areas 200 km north-northeast of Lisbon. Dry thunderstorms preceded the event and ignited numerous fires in the forests which are predominately composed of pine trees and the invasive species, eucalyptus, the latter having surpassed pine as the dominant tree in the country in the last ten years.
 
Between 13 and 18 October 2017 a series of more than 7.900 fires affecting the landscapes of Northern Portugal and Northwestern Spain. These fires were lit by arsonists and caused the lives of 49 people (45 in Portugal and four in Spain), while dozens more were injured.
 
Greece 2018
During the heat wave, which affected Europe in the summer of 2018 an extremely severe landscape fire erupted in the coastal area of Attica on 23 July 2018. The flames, which hit the urban perimeters of Athens, were so intense that they trapped and burned people inside their houses, cars, or a few meters away from the beach. Thousands of vehicles and houses were destroyed before the fire was brought under control hours late. 102 people killed by the fire. Over 700 residents had to be evacuated or rescued, mainly from the seaside settlements located north of the port town of Rafina. More than 4,000 residents were affected by the wildfires. A 65-year old man from the area had caused the fire through negligence, by burning wood in his garden. The fires were the second-deadliest in the 21st century, after the 2009 Black Saturday fires in Australia.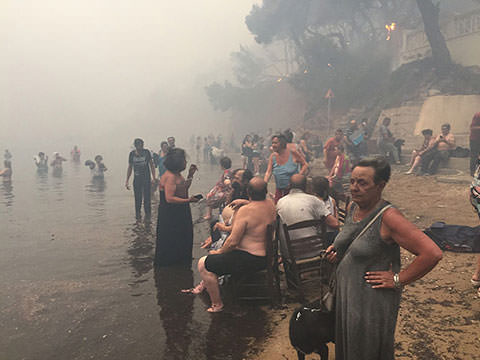 South America 2019
In South America – like in other regions of the tropics – fires are commonly used for cleaning agricultural fields and pastures, and for converting native vegetation to agricultural lands. In addition, uncontrolled wildfires are burning in savannas and open forests, which are highly flammable during the dry season. Although satellite data showed that there were less fires burning in South America in 2019 as compared to previous years, complaints by people living in rural Brazil and Bolivia as well as in cities like Sao Paulo about smoke pollution and the fear of environmental damages were reported globally by media reports and social media. These reports resulted in international response by politicians, e.g. by the governments of the so-called G7 Group (Group of the 7 economically most advanced industrialized nations – the U.S.A, United Kingdom, France, Germany, Italy, Canada and Japan) and by the public, calling for reducing the use of fire to convert the remaining and endangered tropical rainforests to agricultural lands.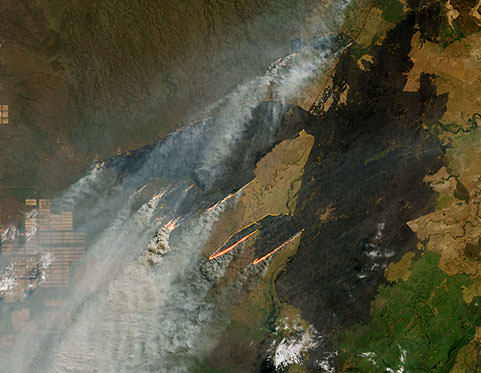 Arctic Circle 2017 and 2019
In the higher latitudes of the Northern Hemisphere fires have occurred rather seldom in the last decades and centuries. The prevailing wet and cold environmental condition, in some regions with year-round snow and ice cover, did not create conditions for the regular occurrence of fires. Only in extraordinary dry years these ecosystems desiccated sufficiently allowing fires to burn. Progressive warming of the Northern latitudes as a consequence of climate change are now creating conditions for higher fire occurrence, especially in the treeless shrub ecosystems of the Subarctic tundra. For instance, fires in Siberia (Central Asia) are becoming more common in the Northern latitudes. For the first time wildfires were observed in Greenland in 2017 and 2019.